His Choice Vasectomy: No Needle No Scalpel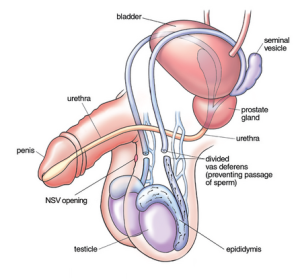 His Choice vasectomy represents an improvement over No-Scalpel Vasectomy because the His Choice Vasectomy technique does not require a needle to administer local anesthesia.
During a His Choice vasectomy:
No needle is required for anesthesia
No scalpel is used to make a skin opening
Only a single opening is required
The vasectomy is performed in less than 10 minutes without removing any tissue and using an open-ended technique. The down time is minimal and most men can be back to normal activity after 48 hours.
These techniques, when used together, allow men to have a vasectomy that provides the quickest recovery time, lowest complication rate, and least amount of pain when compared to some other vasectomy techniques.
Each section below expands to provide greater detail about His Choice Vasectomy.
Minimally invasive vasectomy: A step-by-step guide
For those who would like to see actual images of His Choice Vasectomy click here: His Choice Vasectomy: Step-by-step photo guide