How does vasectomy work? A simple explanation
Vasectomy is a simple surgical procedure and can be easily performed in a doctor's office under local anesthesia.
The vasectomy procedure can be performed in less than 15 minutes by a skilled provider and men can be back to work and sexual activity in two (2) days.
Vasectomy works by causing permanent blockage of the tubes
(vas deferens) that transport sperm to their storage areas inside the body.
If you have a basic understanding of male reproductive anatomy you can easily understand how vasectomy works to permanently prevent pregnancy.
By understanding reproductive anatomy not only will you have a better understanding of how vasectomy works but you will also have a better understanding of why many of the common myths about vasectomy are incorrect.
Each section below expands to explain key areas of the male reproductive system.
Male Reproductive Anatomy: Vasectomy Explained
Scrotum: Protecting the family jewels
Blood vessels and nerves: Sustaining sperm and hormone production
Testicles: Making the hormone that makes you a man
Epididymis: Sperm factory in constant production
Vas deferens: Sperm highway
Seminal vesicles: Sperm storage area
Prostate: Providing the fluid for sperm transport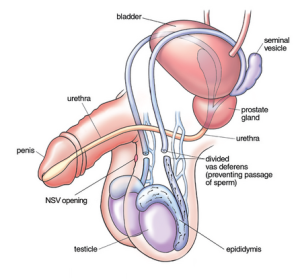 During a vasectomy procedure an opening is simultaneously made in the skin, thin muscle layer, and fascial layer of the scrotum and each vas deferens is exposed, divided, and permanently closed.
Vasectomy is intended to achieve one result: permanent birth control.
After the vasectomy the seminal vesicles must be emptied of remaining sperm and only then vasectomy can be reliably counted on for permanent and highly effective birth control.
Not All Vasectomies Are Alike
There are three major types of vasectomy: Conventional vasectomy, no-scalpel vasectomy, and minimally invasive vasectomy. For more information on different vasectomy types…