Vasectomy: Simple Procedure With A Simple Purpose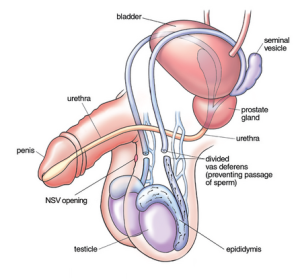 Vasectomy is a minor procedure that can be safely performed in a doctor's office using local anesthesia.
Vasectomy causes permanent blockage in the vas deferens (tubes that allow sperm to travel up from the testicles).
The risks of vasectomy are low and it is rare to have a serious complication.
The purpose of vasectomy is to permanently prevent unplanned pregnancy.
If you don't want to father any more children genetically similar to you….or you don't want to father any children genetically similar to you….then getting a vasectomy is a good idea.
Each section below expands to provide a more extensive explanation.
Vasectomy Explained
How Does Vasectomy Work? Facts vs. Myths
What Is His Choice Vasectomy?
Benefits of Vasectomy
Risks of Vasectomy
His Choice Vasectomy Educational Video Series
We encourage you to watch our His Choice Vasectomy Educational video series. After watching these videos, you will have most of your questions about vasectomy answered and most men will feel comfortable scheduling a single visit vasectomy procedure.